 Cow Shed At Barnacles Restaurant & Bar Bistro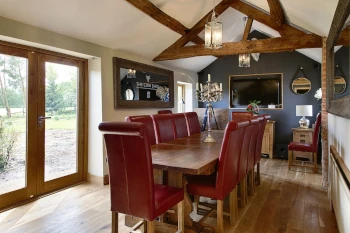 Our beautiful private dining room is available for use for functions, special occasions and business meetings.
The Cow Shed comfortably seats 14 guests around a large grand oak table with comfy leather dining chairs. The room is fully equipped with a wide screen television with various laptop and DVD connections.
An independent audio system plays a varied playlist or guests can bring their own personal music and MP3 playlists.
Inside the Cow Shed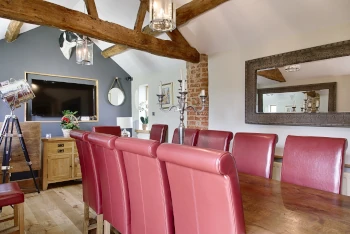 With exposed wood work, original oak beams and hints of natural brick walls, the Cow Shed certainly has the wow factor for a special occasion or business meeting. There is a cosy log burner in the room for the autumn and winter months and it is tastefully decorated. The Cow Shed is completely private, yet attached to the main downstairs dining area and bar should you have a larger party.
The Cow Shed is the perfect option for parties, entertaining clients, business meetings, Sunday lunch, special occasions or just a great night out with family or friends.
If you would like to book the Cow Shed or even visit, then please call us or fill in the form below and we will be happy to show you around. Special party and set menus are available upon request.
Please fill in the form below to book, thank you.
Here are some recent testimonial:
"Barnacles, thanks so much for an amazing night celebrating my 30th Birthday in the Cow Shed private dining room. The room looks amazing and I had lots of great feedback from friends. The service was excellent, and the food delicious. FAR easier than a dinner party at home. Thanks again."
---
"Our Sunday Lunch in The Cow Shed yesterday was absolutely superb thank you. With our own music on and the whole family there, it was almost like being at home – only the food was far better! We shall definitely be booking again."